News and Information regarding COVID-19 in Birmingham, AL
If you need to find your councilor, find your district first!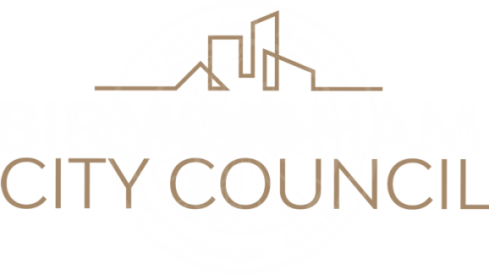 Serving Citizens Through Public Policy
Already Know Your District?
FInd Information for Your District
President Parker encourages residents to take advantage of upcoming COVID-19 vaccination opportunities
Council votes to rezone Southtown Court, laying foundation for long-awaited mixed-use redevelopment
LIVE FROM LEGION FIELD: COVID-19 Town Hall Vaccine Series
President Parker organizing prayer vigil with community and faith leaders following Easter shooting at W.C. Patton Park today at 5:30PM
RESCHEDULED: Councilor Crystal N. Smitherman, District 6, Hosts Virtual Event: How to Buy a Home with Student Loans
Sit Down with Smitherman 03.16.21
Utilities Town Hall with Committee Chair Pro Tem Wardine Alexander (D-7)
Join us for our Brown Bag Series
1 Year Commemoration of the COVID-19 Crisis in Alabama
President Parker and Councilor Hilliard partnering with Alabama Regional Medical Services for one year commemoration of COVID-19 crisis in Birmingham
Councilor Clinton Woods partnering for bi-monthly clean-up events in District One
President Parker pushes to keep Legion Field testing site open beyond April 2021
Councilor Hunter Williams brokers deal with Walmart for reallocation of COVID-19 vaccinations at 16 locations in Birmingham metro area
Council President Parker requesting briefing from state health officials on racial breakdown of vaccine distribution and strategies moving forward
Council President Pro Tem Alexander encouraging residents to sign up for vaccine distribution updates
ICYMI, WEDNESDAY, 6:00 P.M. PRESIDENT PARKER PARTNERING WITH HEALTHCARE PROFESSIONALS AND FAITH LEADERS FOR TELE-TOWN HALL TO DISCUSS COVID-19 DISPARITIES, VACCINATION PLANS AND MORE
MEDIA INVITED TO A DEMONSTRATION, MONDAY AT NOON: COUNCIL PRESIDENT PARKER EXPLORING NEW TECHNOLOGY TO HELP SANITIZE LEGION FIELD
WEDNESDAY: 10:00 A.M. COUNCIL PRESIDENT WILLIAM PARKER PARTNERING WITH LOCAL ORGANIZATIONS FOR TOY GIVEAWAY
COUNCILOR HUNTER WILLIAMS DETAILS ESSENTIAL LIFESAVING EQUIPMENT UPGRADES TO ALL CITY AMBULANCES (VIDEO)
Want to know what events are scheduled for the City Council?